Hello All!!
And welcome to the Christmas In July Blog Hop!
We have some VERY talented ladies here today to show off some in the spirit Christmas projects for you today! Hopefully once you see the inspiration from this amazing group of women, you will not be worrying last minute about what projects you will make this upcoming holiday!
So sit back, relax, and enjoy the hop!!
We are SO excited to share our projects with you today, and as a little bit of added fun, we even have some prizes for you!!! Be sure to visit EVERY blog, post a comment, and follow them! That way you have a chance to win one of these prizes below: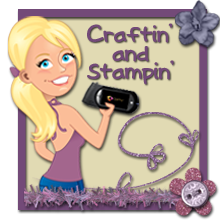 $10 PAYPAL credit
Will be added to your paypal account for any crafty goodies you so desire
1 Smash Book Mini
I SVG of your choice from Craftin' and Stampin' Etsy Store
Here is the project I created for our hop!
All decorative papers from DCWV
Stamps from See D's and Magnolia Ink
Gift tags from Cosmo Cricket
Flowers from Darice
Buttons are unknown
Here is the lineup if you get lost along the way!!!
http://scrappinmystressaway.blogspot.com
Happy Christmas In July!!!
Thanks for stopping by!!!